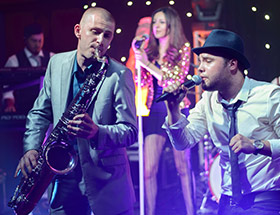 The band were booked again from their wesbite Apollo Live to entertain Mr and Mrs Moxham's guests on their wedding day.  The ceremony was situated in the beautiful gardens at Moxhull Hall. After all the guests had found their seats, bridesmaids started to enter. They were all dressed in long light pink dresses with flowers in their hair, next the bride entered, the song "All of me" by John Legend was playing as she gracefully walked down the aisle, once she was at the bottom of the isle she took the grooms hand and the service began.
As the ceremony was taking place the Apollo duo, Corey and James were setting up for the drinks reception. Corey and James were using an L1 Bose speaker system, this system works great in open areas as it has angled speakers that spread the sound to different locations, further to this the overall look of the system is very sleek and compact.
Once the ceremony was finished all the guests started to congregate in the courtyard were the Apollo soul duo started playing their music. While the guests were drinking and enjoying the sun, the bride and the groom had to go off with their photographer and get some shots around the venue. Corey and James were left to  entertain guests with songs like, all night long "Lionel Richie", Shape of you "Ed Sheeran" and Dance with me tonight "Olly Murs.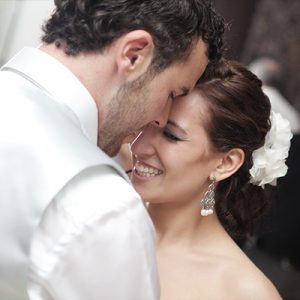 Once the drinks reception had finished everyone was asked to take their seats in the main room for the speeches. For the main meal they were serving, vegetable soup for starter, a pork joint and vegetables for main and a selection of mini cakes for desert.
After the speeches finished the rest of Apollo Soul arrived and were ready to set up the equipment for the evening. On this gig Apollo Soul has just added a new member to the band, Mr Seb Read on the bass guitar.
Once Apollo Soul were set up the bride and the groom had to cut their cake, they had a three tier Victoria sponge cake, everyone surrounded the bride and the groom to take pictures while they cut the cake and got ready for the first dance. For their first dance the bride and the groom chose "Your Song" by Elton John, which the band performed live. After the first dance was over Apollo Soul went straight into their set wowing the audience with hit after hit, keeping the dance floor full all the way through, at the end of the set the lead singer Corey got all the audience to sing the last line of Lionel Richie's Easy and then the DJ took over for bridge the gap. When Apollo soul returned they continued to play until midnight, with the bride and the groom giving a final speech to bring the evening to a close.